Picasion: Animated GIF maker
Create Animated GIF online for free!
Upload
your pictures or grab them from
Flickr
or
Picasa Web
, make avatars or funny animations and post them to Tumblr, MySpace, Hi5, Facebook, eBay, Bebo, Digg, QQ, etc. No need for Flash.
Create animated avatar or MySpace avatar at Picasion (animated gif generator/tool/maker/animator)!
How to make a GIF
using Picasion
1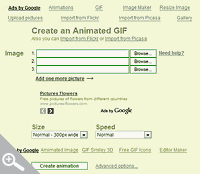 Choose the images
When you are on the home page of
Picasion
, the below image is what you will see. To begin,
you should upload more than one image to create an animated GIF
. You can choose to import the images from your own local files or from popular online photo sharing website such as Flickr or Picasa. Smaller-sized files are preferred to larger ones, as they are easier to manipulate and play around with.
NOTE
You can also
alter the size and speed of the animated GIF
. A higher speed GIF will switch the images more quickly. However, you do not want to make it too fast otherwise your eyes will hurt from it moving too quickly!
NOTE
If you require assistance and are unsure about how to use Picasion, there is a
Help
link on the right hand side of the column to guide you. Do not be scared to ask for help if you find it too daunting. The instructions found when you click on the Help icon are useful and easy to follow. Even those who are technologically inept are able to create a GIF easily with Picasion!
NOTE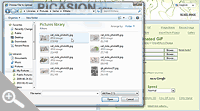 If you wish to import images from the computer that you are currently using, you will need to click on the Browse button to choose the images you want to use from your computer. A pop out box will appear as shown in the image below.
NOTE
If you are a Flickr or Picasa web album user, and wish to import images from there, there is a link provided at the Picasion home page. You can find this below the title, "Create an Animated GIF".
2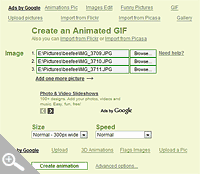 Click the button
Once you have chosen what files to upload and have determined the size and speed that you desire,
click on the "Create Animation" button
at the end of the column to proceed. As with email settings and many other file uploading systems, you can choose more than one file at a time. However, if you are new, you can choose 2 or 3 images so that you can get the hang of it. The reason for this will become clearer as we continue on with these steps.
3
Done!
Once you have created the GIF animation, you will be directed to another page which will show the end result. It may take a while to create, depending on the images' file size. Small sized images tend to load faster, as mentioned in step 1. The reason for this is because the smaller the image size, the easier it is for your computer and the software to process the end result.
NOTE
At the bottom part of the page, there are options for you to either share it on famous online networking websites such as Facebook, MySpace, and Twitter. Also, HTML codes are provided to enable you to insert the animated GIF in your own personal website, blog, or in an online forum.
This is a basic copy and paste situation which you can use to show off what you have made so far. Of course, you can also test the end result first to see if you want to edit the pictures you are using, the speed, and so on.
Create an Animated GIF Online now!